League collectively overachieves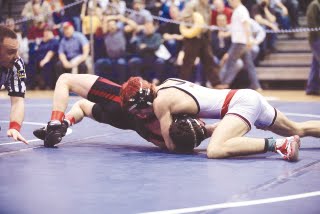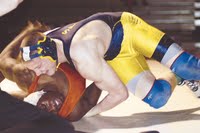 This column was originally published in the March 9, 2010, print edition of The Mercury.
Confession time, or admitting that some of us — a handful or so of justifiable wrestling wackos, a coach or two and, of course, a few media types — were way off the mark in predicting five, or six tops, would survive the Southeast Regional grind last weekend. That's five, or six tops, from the Pioneer Athletic Conference.
And that was just in AAA.
Talk about double your pleasure plus one (thank you Josh Rogers).
The PAC-10 sent 30 of its best to the AAA regional over at Council Rock North, another four – Rogers and three of his St. Pius X teammates – to the AA regional up at West Lawn. Advancing 13 of those 34 (that's 38 percent for the math minds) may not warrant a brash collective strut all the way out to Hershey later this week. But considering it's one of the league's largest gang of state qualifiers, well, they have definitely earned the right to put a little oomph in their step.
Especially when considering the one team in the league that has set the standard for both qualifying and medaling in the PIAA Championships – Upper Perkiomen – doesn't have anyone among the 13. And that isn't a knock on Upper Perkiomen, far and away the Pioneer Athletic Conference leader in state champions (5), medalists (25) and qualifiers (52) but a program beaten back a bit this winter by youth and injuries.
Not at all … just a testament to how well everyone else did.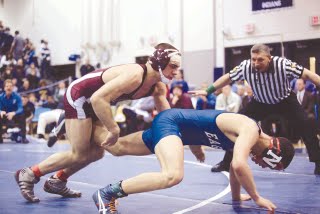 Exactly one-third of the PAC-10's qualifiers at the AAA regional had to open in those dreaded pigtails on Friday night. Unfortunately, six of them went against one another, which meant three kept wrestling and three saw their postseason hopes ended abruptly. Of the remaining four in pigtails, three won. One and only one of the other 20 who started up in the preliminary round went two-and-out. If anyone cares to check the bracket sheets from the last 24 years – or how long the Pioneer Athletic Conference has been in existence – they'd discover that's a very, very extraordinary effort.
Overall, the Pioneer Athletic Conference representatives went a combined 64-47 on the weekend. Again, one of its best showings since 1987.
But beyond all the numbers were the performances.
There were legitimate contenders … and a slew of pretenders, if you will.
Boyertown's Matt Malfaro had been touted as the district's best 119-pounder all season. He proved it, too, and throughout as an exciting final as there was Saturday night. Teammate Alex Pellicciotti had been ranked second at 135 pounds all season behind nationally-ranked and Iowa-bound Josh Dziewa of Council Rock South. One point is all that kept him from the top spot on the awards podium Saturday night.
Then there were those two other finalists – Pottsgrove's T.J. Demetrio and Pottstown's Will Carter.
Demetrio wrestles very much like he plays football, with the heart and desire of someone twice his size. Demetrio himself admitted that in no way did he think back in December he would be wrestling for, let alone winning, a regional title in March. Then again, that's how a lot of opposing football players and their coaches think when they get a glimpse of Demetrio at nose tackle, or at least think until they see "Mini Me" out-tough centers, guards, tackles and fullbacks upwards of 150 pounds heavier than him. And much the same can be said about Carter, the happy-go-lucky heavyweight who may not have been appreciated for what he brought to the practice room, or even to the practice field in football, until giving the Trojan program its first AAA section and district champion since 1989. But the classy big fella, who wasn't even a blip on any of the district or state rankings radar until winning those titles, proved neither was a fluke despite running out of time and coming up a point short in his regional final.
Want more?
There were so many overachievers – some recognized on the medals stand, others unfortunately not.
Like Boyertown's Adam Kolb, splitting four bouts with one knee double the size of the other; Zach Heffner placing third, the only spot he could realistically hope to get with two of the best 189-pounders in the entire country in his bracket; and Jon Neiman and Brock Hallman, who didn't quit like many others and showed up for as well as wrestled as if everything was on the line in their respective fifth-place bouts. Or Methacton's Rob D'Annunzio, who came out of the pigtails and won six of seven bouts to take third; Dan Cox, much like Carter in being an unnoticed and unappreciated big fella in the football and wrestling lineups, taking fourth; and Brandan Clark winning four of five bouts to take third.
How about Owen J. Roberts' Scott Syrek, who could use a ticket for surgery and rehab at Hershey Medical Center more than a ticket to the nearby Giant Center, placing fourth? And don't forget Spring-Ford's Kyle Duffy and Matt Krueger, who simply stepped it up a notch or two when the regular season ended and the postseason began and finished third and fourth, respectively, over the weekend.
But if there was one immeasurable heart-and-soul show from last weekend, it came from Rogers.
First, a little history.
Pius' wrestling program dates back to 1967, when a handful or so Lions practiced on the stage at one end of Father Doyne Hall – under the hot lights on tattered mats donated to them by nearby Hill School. Early on, they had more than their share of coaches, with the first being Pottstown's Mike Brauner, then football legends Jim Mich and the late Ron Reed, as well as former Pottstown standout Dan Staverosky among others following. The program didn't begin to take shape, or become a consistent winter sport, until the early 1980s.
Through all those changes, through all those years, Pius never had a regional champion. None until last weekend thanks to Rogers, who put an exclamation on it with a pin-pin-pin. Then again, if anyone chose to pin down who may have been as responsible as anyone for leading the Lion-hearted turnaround in football last fall, it wouldn't be at all surprising if most pointed a finger at Rogers.
Most won't be surprised if Rogers puts a notch in yet another empty column on Pius wrestling's ledger before it all ends this weekend in Hershey. That notch would be a win, something six Pius wrestlers – actually five because Zach McCann was a two-time state qualifier – were never quite able to do in the PIAA championships.
NEXT SEASON
Eight of the Pioneer Athletic Conference's dozen AAA state qualifiers – Jeremy Minich and Zach Heffner of Boyertown; D'Annunzio and Clark from Methacton; Syrek from OJR; Demetrio from Pottsgrove; and Duffy and Krueger from Spring-Ford – are underclassmen.
Of the league's remaining 22 AAA regional qualifiers, 14 are underclassmen, too. They were Boyertown's Peter Jones, Jon Neiman and Tyler Mauger; OJR's Jordan Moser; Perkiomen Valley's Gavin Milligan and Lou Fioravanti; Phoenixville's Ken Cenci; Pottsgrove's Zach Robinson; Spring-Ford's Chase Brown and Tom Boring; and Upper Perkiomen's foursome of Dylan Steffenino and Wolfgang McStravick – both freshmen who were fifth and sixth, respectively, last week – Dan Rodenberger and Dalton Fleming.
St. Pius' Jared Robbins, Conor Myers and John Cherneskie – who accompanied Rogers to the AA Regional – will also be back, only this time as part of the new Pope John Paul II High School program.
WELL-EARNED
Pottstown graduate Alray Johnson was part of the new class inducted into the District 1 Wrestling Coaches Association's Hall of Fame last Saturday night … and it was long overdue. Johnson was an outstanding football player and wrestler for the Trojans – helping Pottstown to back-to-back Ches-Mont League titles in 1967 and 1968. He was also a standout wrestler at the then West Chester State Teachers College and Olympic Trials qualifier. He became the head coach at Downingtown High School and not only re-energized the program, but directed the Whippets to seven straight Ches-Mont championships (1981-87) and two AAA Southeast Regional team titles before retiring. Johnson, now 59, is back on the mats as an assistant under Joe Miller at West Chester, where they have helped the Golden Rams become – in two short seasons – one of the National Collegiate Wrestling Association's top-ranked teams in the nation.
MORE NUMBERS
Pellicciotti's two wins last weekend pushed his career total to 166. He is fifth, and will graduate fifth, on The Mercury's all-time chart because No. 4 on the list – Upper Perkiomen's Brent Fiorito (176) – is out of reach. … Malfaro has moved all the way up to No. 10, his three regional victories breaking a tie with former teammate Jesse DeWan (143) and pushing him ahead of Dan Covatta (145), who was a state champion and three-time state medalist for Methacton. … Minich (103) and Syrek (102) have already reached the milestone. … Clark needs one win at states on Thursday for his 100th career victory and, depending on next year's schedule, could challenge Covatta's school record. … Robinson (98), Milligan (85), Demetrio (76), Heffner (75), Cenci (69), D'Annunzio (68), Krueger (66) and Rodenberger (66) are in position to join the list next season.
Labels: PAC wrestling