Methacton trio finds its way to Hershey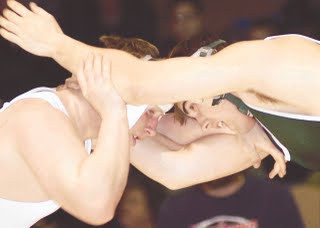 This column was originally published in the March 11, 2010 print edition of The Mercury.
HERSHEY – Rob D'Annunzio, Dan Cox and Brandan Clark all seemed to be heading in different directions this winter.
A.J. Maida didn't need a GPS to find them, mind you. But the Methacton head coach would likely admit it sure was a bit of a dizzying experience keeping track of exactly where – and how far – they were going.
D'Annunzio didn't just look unbeaten during the regular season, he won two tournaments (the Southeastern Classic and Buckskin Classic) and every one of his 27 bouts. And when he breezed through the Section Three tournament, no one would've have blamed him if he went ahead and reserved a room for states … until he lost twice and finished a shocking fifth at districts.
Cox, had some success but not a lot of it as a sophomore and junior … and was an anything but imposing 13-5 going into the last week of January.
Clark, as good as he's been since stepping into the Warriors' lineup as a freshman, always seemed to come up a point short here and there in the postseason … and this season, to make matters ever more difficult, he found himself locked in a 215-pound weight class that included two district rivals who were highly ranked nationally and five overall who were very highly ranked in the state.
Ironically, no one lost his way.
They crossed paths last weekend during the Southeastern Regional over at Council Rock North, where D'Annunzio was third at 103, Cox was fourth at 189, and Clark was third at 215 – finishes that earned all of them a trip to the PIAA Wrestling Championships in the Giant Center.
None of them, especially Maida, needed a map to get there for this afternoon's opening round of the Class AAA spectacle, either.
"It's kind of true how they all kind of took different ways getting to this point, too," Maida said.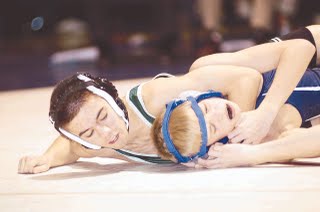 Especially D'Annunzio, who didn't look at all like himself at districts and was oh so close to not even advancing to regionals.
"He just had a bad day, a bad weekend," Maida explained. "And what he did at regionals, winning six times, was just amazing. You couldn't do it any harder than he did. You can't make it more difficult on yourself by doing what Rob did, by beating six other regional qualifiers."
Most figured he wouldn't be able to do it after getting decked by eventual champion Corey McQuistion of Rustin in the quarterfinals. But D'Annunzio marched through the consolations, first with a major and three straight one-point thrillers – the first over favored Alex Wait of Downingtown East, the second over District 1-North champion Dylan Steffenino of Upper Perkiomen, and the third over District 12 champion Mike McCall of Northeast Catholic.
"He went 4-0 on Saturday, and that says a lot about the kid," Maida said. "He was a like a little ball of energy. He wrestled with a lot of confidence, and even though he finished up with three one-point wins he looked dominant."
Cox, who wrestled every one of his bouts as a sophomore and junior at 285 – all 71 of them – worked a lot of pounds off his frame and was at 189. And his goal this season, to be a regional qualifier, wasn't anything extraordinary.
"But something clicked with Dan after he (pinned) the Plymouth-Whitemarsh kid (Sam Morrison) in the section final," Maida explained. "He began wrestling with a lot of confidence."
That's been evident the last month and a half. He hasn't lost to anyone other than regional champion Council Rock North's Jamie Callender, regional runner-up Andre Petroski of Springfield-Delco, and Pioneer Athletic Conference rival Zach Heffner of Boyertown – who defeated him in the third-place final last Saturday night.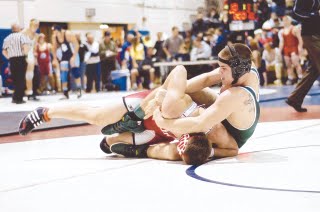 "He hasn't lost to anyone whose name isn't Callender, Petroski or Heffner in a long time," Maida said. "He's had just a phenomenal season. It's been masked a little bit. It's been a quiet but amazing season for Dan.
"He's truly an over-achiever. He's taken his set of skills and applied them to his work ethic …and he has truly achieved because of it."
Clark's work ethic could never be questioned.
"Brandan's motor never stops," Maida said. "He eats, sleeps and breaths (wrestling). He'll out-work anybody. He just has that unquenchable appetite. You put something in front of him and tell him it's going to make him a better wrestler and he works on it, and works on it as hard as he possibly can."
As a freshman, Clark was golden in Section Three but saw his postseason drive end the following week at districts. As a junior, was golden in Section Three and District 1-North but saw another postseason drive stall after just four bouts at the Southeast Regional.
"When Brandan first came up as a freshman I had a coach come up to me and say, 'Clark looks like he could be a state champion someday,' " Maida recalled. "He may well be before he's done. For two years we felt it was just a matter of time before he got to states, but when you get to be a junior you begin to ask yourself, 'When, when, when?'
"This year, I just don't think he felt he was going to be denied. Some people suggested he go up to 285, that he may have an easier time there because of all (the talent) at 215. But I never had that conversation with Brandan. There are a lot of great wrestlers at 215, but that's his weight class, too. Those other guys have to contend with him, too. Brandan's that talented."
As talented as D'Annunzio and Cox proved as well.
TRIVIA TIME
Part 1: Name the District 1 wrestler who won sections three times and districts twice, but never won a regional title nor advanced to states only to go on and become an NCAA Division II national champion.
Part 2: Name the District 1 wrestler who won sections once – his only postseason title – and never qualified for states before going on to become an NCAA Division II national champion.
See the answers at the end of the column.
TODAY'S MATCHUPS
At 103, D'Annunzio (39-3) opens with Canon-McMillan freshman Connor Schram (38-4), the Southwest Regional runner-up. A win will likely get him a quarterfinal with New Oxford's Jordan Conaway (38-1), the Southcentral Regional champion who has had a week's rest.
At 119, Boyertown's Matt Malfaro (38-5) starts with Indian Valley's Kaleb Loht (31-6), who was third at last week's Northwest Regional. A win could give him a quarterfinal bout with Liberty's Anthony Marino (29-7), who dropped a 6-4 decision to Boyertown teammate Jeremy Minich in the season-opening Bear Duals. Another win there would likely mean a semifinal showdown with Meadville's Shelton Mack (37-1), the Northwest Regional champion.
At 125, Minich (30-7) happens to draw Bellefonte's unbeaten Mitchell Port (41-0), a two-time medalist and three-time qualifier who is picked by most to get to the final.
At 135, Boyertown's Alex Pellicciotti (41-4) starts with Lewistown's Jake Schultz (30-6) and, barring an upset, will likely see Derry's Travis Shaffer (29-3) in the quarterfinals. And should he get past Shaffer, he'll have a semifinal shootout with Cumberland Valley's Shawn Greevy (20-2), the Southcentral Regional champion who was injured during the Beast of the East Classic and had to forfeit (medical) his final two bouts, one to Pellicciotti.
At 145, Pottsgrove's T.J. Demetrio (29-6) makes his debut against Warren's Curtis Delattre (34-7), who was third at the Northwest Regional. … Spring-Ford's Kyle Duffy (28-8) goes up against West Allegheny's Aaron McKinney (36-4), the Southwest Regional champion.
At 160, Spring-Ford's Matt Krueger (31-9) meets Central Dauphin's two-time defending state champion Peppelman (46-0), who hasn't lost a bout in over two years and is ranked No. 1 in Pennsylvania and, believe it or not, in the nation as well.
At 189, Boyertown's Zach Heffner (35-9) starts with Greater Latrobe's Eric Shaffer (37-2), the Southwest Regional champion. If he can pull the upset, next in line will likely be Cory's Mike Pollard (42-1), the Northwest Regional champion. … Cox (30-9) gets Crestwood's Mike Mirra (37-6), the Northeast Regional champion who pulled out a 4-2 decision over Cox during the Buckskin Classic back in December.
At 215, arguably one of the most stacked brackets, Clark gets Connellsville's defending state champion Nate Gaffney (40-2), who was stunned in the Beast of the East Classic final by Garnet Valley's Matt Idelson (who was eliminated at districts two weeks ago). If Clark could pull a similar upset, he'd likely get East Pennsboro's unbeaten Zach Nye (36-0) in the quarterfinals. … Owen J. Roberts' Scott Syrek (32-5), who was sixth here last March but is battling an assortment of injuries, has to deal with St. Mary's unbeaten Sean Sadosky (33-0), who was seventh here last season.
Also at 215 – in Class AA – St. Pius X senior Josh Rogers (27-5) will go for the first state-tournament win ever by a Pius qualifier when he opens against Forest Hills' Jeff Meier (34-6), who was fifth in the Southwest Regional.
At 285, Pottstown's Will Carter (30-4) makes his debut against Clearfield's Andre Buck (27-8), who was third at the Northwest Regional. A win by Carter could mean a quarterfinal battle with Susquehanna Township's Averee Robinson (34-2), the Southcentral Regional champion.
TRIVIA ANSWERS
Part 1: Pennsbury's Roger Sanders won three Lower Bucks Section titles (two at 154 pounds, one at 145) from 1958 through 1960 and two District 1 titles in 1958 and 1960, then went on to capture the NCAA Division II title at 157 pounds in 1964 while attending the then West Chester State Teachers College.
Part 2: Upper Darby's Ron Sheehan won the Section One title at 180 pounds in 1969, then went on to capture the NCAA Division II title at 167 pounds in 1974 while attending the then Bloomsburg State Teachers College.
Labels: wrestling