The bell will ring again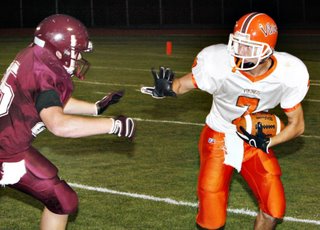 This weekend is the second round of the annual Pioneer Athletic Conference football fight … just the second round. Perkiomen Valley's Scott Reed is well aware of that, so is Pottsgrove's Rick Pennypacker.
So forgive the ol' fellas if they don't think their teams can deliver a knockout blow tonight.
Yes, both Perkiomen Valley and Pottsgrove have been mentioned over and over as the PAC-10 heavyweights this season. Yes, both punched their way to wins over credible challengers a week ago. And, yes, as long as they stay healthy, both have the ability to poke, prod and punch their way through the next – or final – seven rounds of the regular season.
So, yes, the Vikings and Falcons absolutely want to knock each other off their collective feet tonight.
But they're also well aware that the bell rings again next week, the week after that, the week after that… all the way through the first weekend in November, then one final time Thanksgiving morning.
"Our team, and that includes every one of the players as well as all the coaches, know that whoever we play each week is the biggest game of the season," Reed said. "That never changes. We prepare for the team we're playing that week, and we prepare for it as the biggest game of the season."
"This is like any other game for us," Pennypacker added. "Yes, Perkiomen Valley is very good and, yes, this is a very big game. But all it means right now is that one of us gets a leg up on the other by being 2-0. Don't forget, there are still a lot of games left to play."
Though neither would admit it, Reed and Pennypacker probably spent a few extra hours with their defensive coordinators.
Understandably so.
The Vikings, who have been quite generous defensively – allowing 120 points in their first three games – will have to deal with Pottsgrove's much-improved heavyweights up front and quick-as-lightning lightweights behind them. Quarterback Terrell Chestnut, as well as fullback Preston Hamlette and tailback Maika Polamalu, can flat out fly. Chestnut has gone 76, 61 and 77 yards for three of his five touchdowns; Hamlette went 94 yards for one score; and Polamalu, in addition to a 37-yard reception that ended in the end zone, shuffled through the defense for 63 yards and a touchdown that put last week's bout with Phoenixville out of reach.
"(Pottsgrove) has a lot of marquee football players," Reed said. "They have talent. They can move the ball, and they can score."
Don't think it'll be any easier for Pottsgrove's defense, either, because Perkiomen Valley lines up with one of the area's most balanced – or most dangerous, if you prefer – offenses.
Lynwood Snowden, who showcased his speed in both the 100 and 200 meters during last spring's PAC-10 Track and Field Championships, brought a kickoff back 90 yards in the season-opener, has run for four touchdowns and caught a pass for another. In other words, he's a concern every time he touches the football. So is quarterback Zach Zulli – The Mercury's Player of the Year last season – who has peppered opposing secondaries by completing 64 percent of this attempts for 671 yards and seven touchdowns – four going to Paul Thomas.
"They can score, and they can score in bunches," Pennypacker said of the Vikings. "Zulli is one of the best high school quarterbacks I've seen in a long time, and with all the formations and all the motion they show you, you can't afford any mental mistakes. Seriously, we could get blown out if we're not careful in this one."
Even though Pennypacker will go with an incredible number of underclassmen tonight – eight sophomores and nine juniors among the 22 lining up on both sides of the ball – Reed still sees the overall makeup of the Falcons' youth movement.
"People have a tendency to think about running backs and receivers when you talk about speed, but Pottsgrove's defense is very fast," Reed said. "They get to the football very quickly, and that's from all positions.
"They'll be a big challenge for us. They're very aggressive, and they fly to the football."
* * *
Zulli needs just 26 yards passing tonight to become the area's third quarterback to reach the 4,000-yard career mark. The others were Upper Perkiomen's Jeff Moyer (4,161) and Daniel Boone's Chris Bokosky (5,297). … The Falcons had beaten Perkiomen Valley seven straight times before falling 35-7 last year in Graterford.
BUSTIN' IN BERKS
Daniel Boone, coming off what was unquestionably one of head coach Dave Bodolus' most disturbing defeats – 48-47 in overtime to winless Columbia – opens its Inter-County League Section One card tonight against visiting Twin Valley.
The Blazers put up 440 yards and those 47 points against Columbia, so it wasn't like they really missed quarterback Jon Monteiro, who was sidelined with a thigh bruise. Monteiro is expected to be back tonight, and Bodolus hopes the defense comes back, too. And not the defense that surrendered 451 yards and 48 points last Saturday night.
Twin Valley moved up from Section Two to Section One this season, the program's 13th since opening up back in 1996 under former Owen J. Roberts standout Tim Kier.

PROFILE OF COURAGE
Perkiomen School's visit to George School on Saturday will feature two outstanding quarterbacks – the Indians' Abdul Smith and the hosts' Justin Cancelliere.
Cancelliere, who like Smith also lines up in the secondary and returns kicks, has shown remarkable courage since losing almost his entire family in a plane crash midway through his freshman year. His mother, stepfather, three sisters and the family babysitter were killed when their plane crashed while attempting to land in Myrtle Beach, S.C. Cancelliere was actually supposed to accompany them on the flight, which originated out of Trenton, N.J., but he instead decided to stay at his father's home to enjoy Super Bowl weekend.
"You've just got to keep your head up," Cancelliere told the Bucks County Courier Times last month. "A lot of times it's, "Ah, I feel like quitting. Why am I here?' You ask why, but you need to look past that and think, 'You're still alive. You need to make your family proud. You're living their legacy.'
"You're the only left to represent your family, so you've got to represent them well and stay positive."
Cancelliere plays three sports and is an excellent baseball player.

MILESTONES AND MORE
Pottstown was 48-48-1 at home in PAC-10 games before winning last week's outing with visiting St. Pius X. Upper Perkiomen is 48-48-1 at home in PAC-10 games going into tonight's game with the Trojans. Both teams will be looking to take the lead in their PAC-10 series, which is currently deadlocked at 11-11. The Indians will also be playing the 600th game in the history of their program, which kicked off in 1952 following the jointure of neighboring East Greenville and Pennsburg high schools. … Owen J. Roberts, which picked up some well-earned respect with last week's decision over Upper Perkiomen, goes for its 100th Pioneer Athletic Conference win Saturday afternoon against Methacton, which is looking for its first.

DISTRICT BIGGIES
North Penn, No. 2 in the state and 3-0, hosts Central Bucks South (2-1), while No. 9 Neshaminy (2-1) entertains unbeaten Abington (3-0) in a pair of quality AAAA matchups. … An undefeated pairing has AAAA Upper Dublin (3-0) at AAA Upper Moreland (3-0). …Two other games – Garnet Valley (3-0) at Strath Haven (2-1) and Conestoga (2-1) at Ridley (3-0) – will also go a long way in setting up the early playoff points standings.
STATELY NOTES
Beaver Falls, Dunmore and Jeannette occupy the top three spots, respectively, in the state's Class AA rankings. Former No. 1 West Catholic dropped to No. 4 after being upset 27-26 by La Salle College High School. Jeannette is the only team in the state that has yet to be scored on. The Jayhawks have blanked East Allegheny (43-0), Brownsville (41-0) and South Allegheny (45-0), and could make it four in a row at Waynesburg (1-2) tonight. … In Class AAA, No. 2 Erie Strong Vincent (3-0) travels across town tonight to take on No. 5 Erie Cathedral Prep (2-1). … McKeesport, which dropped a narrow 14-7 outing to powerful Colerain, Ohio, in its opener, jumped five spots to No. 3 in the AAAA state rankings behind No. 2 North Penn and No. 1 Gateway. The Tigers picked Plum apart 55-0 two weeks ago. Last Friday night, they took a 48-0 lead after one quarter and scored on eight of their first 14 plays from scrimmage en route to a 67-7 laugher over Connellsville. McKeesport and Gateway, by the way, meet in their WPIAL Foothills Conference final on Oct. 24. … If defense isn't your thing, how about unranked William Penn High out in York? The Bearcats lead the state in scoring (167 points) after three romps over Reading (49-13), Lancaster McCaskey (57-20) and Susquehannock (61-10).
Labels: Falcons, football, PAC-10, Perk Valley, Pottsgrove, Vikings